As new people join the team to offer their individual services for you to enjoy, this page will be updated. If you would like to be notified, join our mailing list by clicking here.
Below is a list of the people currently available for one-on-one services. Call Mad Hattie's for appointments. The contact information is at the bottom of this page.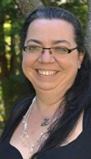 Gythja Crystal Allard was born with the gift of sight and knowing. With decades of experience, training and natural intuition, she can use almost any medium but prefers Tarot and the Mystic's Ball.
Guided meditation, past life regression and aura cleansings are all tools she uses, and, as lead psychic to a Paranormal Research team in Ontario, her clairvoyant skills at distance reading are uncanny and accurate.
Book an appointment with Crystal through Mad Hattie's World for:
Tarot Readings
Past Life Regressions

Nancy Arruda is Metaphysical Practitioner and Teacher. All her life, she has had psychic gifts of empathy, vision, hearing, feeling and knowing.
With the conception of her son in 1995, her spiritual channel blasted open. All of her senses were activated to a much louder and clearer level than she had ever anticipated.
She has studied several spiritual philosophies and esoteric modalities. The knowledge of the universe, the multiple planes of existence and the energy system (Auras and Chakras) have allowed her to psychically and intuitively assist others.
Book an appointment with Nancy through Mad Hattie's World for:
Tarot Readings
Spiritual Astrology Consultations
Energetic Healing and Clearing
Tuesdays from 11:00 a.m. to 6:00 p.m.

Dianne Scott, is a Registered Practical Nurse who specializes in feet (Podiatry Nurse). She has been honing her foot care skills over the last five years working in nursing home clinics, a home care agency, chiropodist clinic and with her own private clients in their homes.
Book an appointment at Mad Hattie's World for our monthly foot care clinic. Her services include:
Foot Care
Foot Massage
Reflexology
The next footcare day is January 20th, 2018 from 10:00 a.m. to 6:00 p.m. by appointment only.
Our Chi Machine (click here for details) is available from 10:00 a.m. to 6:00 p.m. Tuesday to Saturday. To book time on the chi machine, call Mad Hattie's World at 905-596-1030.